Bright Futures Changing Guidelines

Florida's popular state-based scholarship has changed eligibility requirements to accommodate students who are unable to volunteer. Bright Futures no longer requires students to log volunteer hours but is instead allowing for paid work hours to meet the requirements of the scholarship.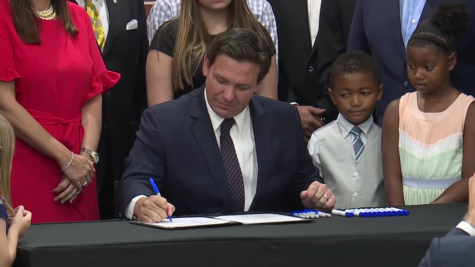 A new law, signed by Governor Ron DeSantis on June 27, 2022, allows for students to use their paid working hours as a substitute for the 100 hours of volunteer time that Bright Futures requires. "Florida students should not lose the opportunity to receive a Bright Futures Scholarship because they have to work to help their families make ends meet," said Governor Ron DeSantis, "After-school jobs teach our students valuable life lessons, much like community service hours do. I am glad to sign this bill and will continue to make sure higher education remains affordable in Florida."
Many students do not have the ability to give up hours they could be getting paid for to volunteer and meet scholarship requirements. This new bill will prevent them from being excluded due to their situation. "I am extremely excited about the new changes. I was unsure how my son would be able to balance school, work, and volunteering. Now he will be able to qualify for Bright Futures without all the stress of trying to manage everything." said Mrs. Greaver-Oaks, parent of a high school scholar.
The legislation (HB 461) was sponsored by Republican Rep. Lauren Melo. Senate President Wilton Simpson called the change "a product of a blue-collar Legislature." DeSantis signed the bill on the campus of Hillsborough Community College to help benefit high school students who may need to work.
While the Governor does understand the importance of volunteering, he also understands that "not every student has the luxury of being able to just do volunteer hours." This bill does not, however, alter the academic requirements that come with Bright Futures. Students are still required to get a minimum score of 1330 on the SAT or a score of 29 on the ACT to qualify for the The Florida Academic Scholars award, which covers full tuition. The Florida Medallion Scholars program, covering seventy five percent of tuition, only requires a minimum of 1210 on the SAT or a 25 on the ACT.
If you are pursuing a Bright Futures scholarship, there are many ways that you can increase your chances. Academically, you can start by working to make sure your test scores and GPA are as high as possible. You can maximize your test scores by deciding whether to focus on the SAT or the ACT.
This past year, 120,000 students were able to qualify for Bright Futures. This new bill hopes to increase this number, and in turn raise the rates of college students in Florida. "I think that the new bill is much better for people who are less fortunate; they are now able to help out their families without losing working hours in the day. Kids lose a lot of time due to school, and I am glad that I don't have to choose between working or volunteering," said Emma Vega, 11th grade.