What Comes Next?
Throughout their inaugural year in Sunshine Christian League, the OSOTA Lions Varsity basketball team exceeded even the expectations that they placed on themselves. Their original goal was to be a .500 team, winning half of their games. Finishing the season on a six-game winning streak, they finished the season as a .800 team, winning eight out of 10 of their games. In those 10 games, their total margin of victory was a comfortable nine points (if you only include games that they won, the margin of victory skyrockets to 17 points). Ben Lachance, the team's leading scorer, said, "It felt amazing to shatter even the limits that we placed on ourselves. It showed our potential as a team when we're all on the same page and working together."
Although they surpassed their goal of being a .500 team, the ending of the season is bittersweet. Seven out of the 12 players on the OSOTA Varsity team are Seniors, meaning that about 60% of this year's team is leaving, and that's assuming that all five underclassmen return to the team next year. Another worrying piece of information is that none of the remaining underclassmen led in any significant statistic this season.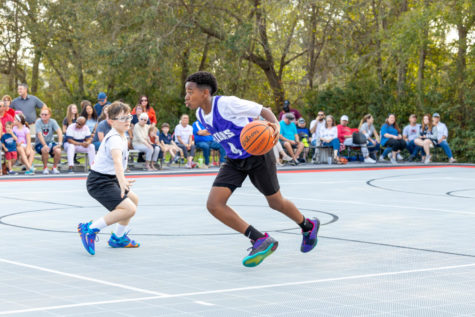 As it is with most things, there are two sides to the same coin. The bad news is that the Seniors on the varsity team are leaving. The good news? Their absence opens up roster spots for some of the capable players from the Junior Varsity team. Promising players from the JV team are their leading scorers, Jayce Loggins, and Noah Miller, along with their lead three-point shooter, Luca Fix. With the right players, the OSOTA Varsity team definitely looks like it could be competitive in the year to come when they will be eligible for the end-of-season tournament.
The future looks bright for OSOTA Basketball.