Seniors' Service in El Salvador
During the last week of June, the senior class of 2023 went to El Salvador to serve on a mission trip. Being led by Pastor Tim Waisanen and Ms. Karla Waisanen, the team helped to make an impact in the community of Shutia, a village outside of La Libertad. While learning more about the culture of the country, scholars learned more about themselves. 
However, their trip didn't start off as planned. While on their way to the country, they were delayed three times before takeoff. "Despite us being delayed, we were able to rest up and recharge so we could do more when we arrived," said Jacob Gomez, 12th grade.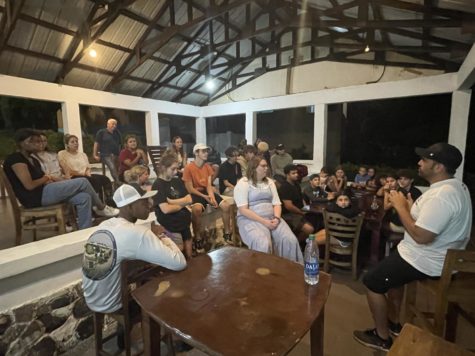 When they finally did arrive, they were greeted by the team at the K-59 Impact Center. Ran by Jonathan and Alicia Farrant, many trips are hosted throughout the year impacting the greater La Libertad area. Pastor Tim and Ms. Waisanen have brought mission teams for 17 years, including OSOTA's senior class every year. 
On their first full day, they went to Centro Cristiano Impacto to share their testimonies with their congregation. Speaking on the hardships they have lived through, Sarah Neal, Emily Black, and Jasmine Hicks, 12th grade, told the church that these things in their past have helped them grow as people and in Christ. "What was said in El Salvador will stay there forever. It was an amazing experience," said Emily Black, 12th grade.
After service, scholars were able to see the groundbreaking ceremony for the expansion of the No Greater Love Orphanage. Afterward, the team was able to cool off from the heat. Scholars had the opportunity to play in the pool and go to the black sand beach just outside the base. "It was so much fun witnessing everyone run through the sand and laugh. We started a sand ball fight, and it was the most fun ever," said Trinity Arroyo, 12th grade.
Once they dried off, they were then told to pack beans and rice so that the team could pass out food to families that were up further in the mountains. "It was really impactful to see how grateful these families were for a small bag of rice and beans. It made me realize how much I take for granted," said Desiree Mann, 12th grade.
The second day was just as action-packed as the first, and it began when the team went and visited a local school. Some scholars performed a human video and shared their testimonies with the school children. "Being able to share a story about always coming to God, even when you feel like he'd never take you was a memorable moment for me. Sharing that story with those young people and how God will always accept and forgive you was something I felt led to share and I felt many kids and even people in our own group needed to hear. I felt so blessed to have been able to get vulnerable with them and praying after was an experience I'll never forget and am forever grateful for it," said Jonah Heilig, 12th grade.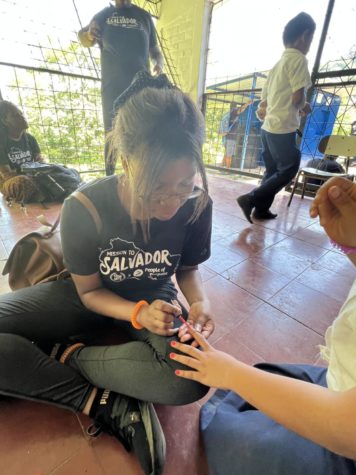 After finishing their program, they were able to play with the local children, whether that be in a game of soccer or a game of cards. Some scholars even braided the children's hair and painted nails. This was the first of three trips that they made to local schools. "It was so beautiful to see the joy and energy the kids had when we were interacting with them at the school. My favorite parts had to be painting their nails, playing games with them and just seeing their smiles," said Paula Pierre, 12th grade.
Once school was let out, scholars were off to the orphanage. They were there to help dig the foundation and tie rebar for the expansion of the facility. They made two trips to the orphanage to help with construction, and their help was appreciated. In La Libertad, it is very difficult to get a construction team to help with the building, so having a large group expedited the process. "All the work we did at the orphanage, although physically exhausting, was more than worth it. After seeing the kids so happy on Sunday morning, I would do it 100 times over," said Micah Soliman, 12th grade.
The final item on the agenda that day was a soccer match. This game was a scrimmage against a local club, as the team would compete in a tournament at the end of the week. It was a close matchup, as it was tied 1-1 at the end of regulation. However, the scholars pulled ahead in penalties and ended up winning the game. "It was a crazy fun experience. I can't speak Spanish but this was my way of connecting with the kids. Just everyone having fun together and connecting brought joy to me," said Peter Fares, 12th grade.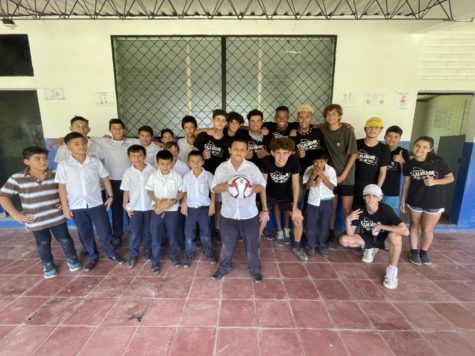 At the end of the week, it was time for the soccer tournament to commence. There were four teams in the tournament and the games were all close. Caleb Schreiner, 12th grade, scored early on to give them the advantage, but a well-placed shot tied the game in the final minutes of regulation. Coming down to the final penalty kick, Ian Pienero snuck the ball in the top right corner to advance to the championship game. "I'm so grateful we got to play, and I was able to shoot that shot that took us to the championship game," said Ian Pineiro, 12th grade.
In the championship match, the stellar goalkeeping of Jonah helped the team win 1-0, taking home the trophy. After the celebrations, Pastor Tim called for a huddle of the clubs. Each club was given a pump and a ball and encouraged to continue their love for the game of soccer. "I had an amazing time in El Salvador playing soccer with the local kids. It was such a life-changing and heartwarming experience to see the smiles on their faces when we came to play with them," said Evan Richmond, 12th grade.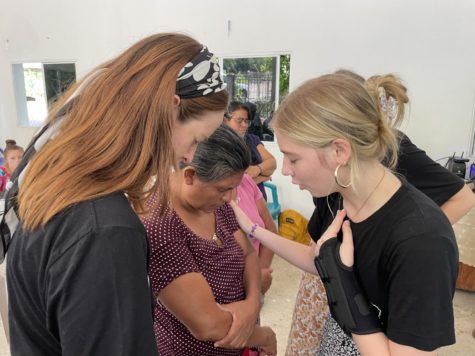 Right after leaving the pitch, the team was asked to pray for a woman who was dying from cancer. Sadly, on the way to the family's house, the woman passed away. This somber moment right after the game was very heart-wrenching for scholars. They comforted the family through this hard time and reassured them that God was with them. 
The rest of the day, scholars processed the situation they were just in. They carried that love they exerted into their final service. The entire village was invited to come to this service to honor the fathers. However, it turned into much more, as there was an extended altar call after service for those who had pain. "Seeing the peace come over that small town was incredible and getting to experience it alongside my classmates was amazing," said Jasmine Hicks, 12th grade.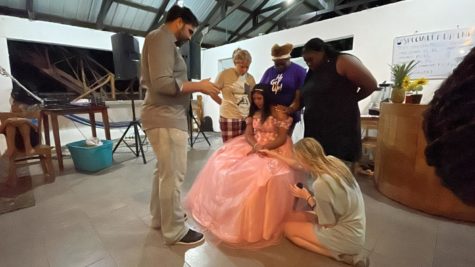 When everyone got back to the base, there was a special party planned. The K-59 Impact Center team held a quinceañera for Alison, a friend of the Farrant's who didn't get to do her daddy-daughter dance at her original quinceañera. Jonathan was wrecked at that news and decided that they would hold a second party so that he could dance with her. 
At the party, the girls who are in the worship team sang "The Blessing" by Elevation Worship as Jonathan danced with Allison. It was one of the most heartwarming moments on the entire trip. "It was very emotional and empowering to see how the song affected her and how God can really move wherever you are," said Jada Williams, 12th grade.
Following the end of the dance, there was a piñata that everyone got a chance to knock down. Once it finally came down, everyone rushed to get a piece of candy. When the floor was cleaned of sweet treats, it was time to hit the dance floor. "It was really heartwarming to be able to celebrate Alison on her birthday. Dancing with everyone to the music was one of my favorite parts of the trip," said Lilah Ruiz, 12th grade.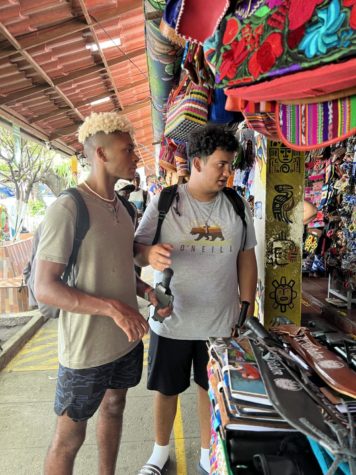 On the penultimate day of their stay, scholars visited the capital of El Salvador, San Salvador. They visited the Multiplaza Mall along with visiting local markets. Scholars were able to bring home keepsakes to remind them of the trip they took. "The energy of the markets was so amazing and seeing everyone relaxed and getting to bond was really cool," said Ja'Leah Jones, 12th grade.
When it was time to leave, many scholars didn't want this experience to come to a close. Before embarking on the trip back to the airport, Pastor Tim asked if any scholars would want to be baptized in the ocean, and many of them said yes. "When Pastor Tim and Ms. Waisanen told us about this opportunity to get baptized, I couldn't say no! During the trip, I strengthened my relationship not only with God, but with my classmates as well, so it was heartwarming that I got baptized with my classmates," said Mya Munroe, 12th grade.
When recounting their favorite part of the trip, many said events in specific. But the overwhelming majority of scholars said that their favorite part of the trip was how everyone came together, despite their differences, to serve. "El Salvador was an experience I will never forget. It made me realize how fortunate I am, and I will not take anything for granted ever again," said Jazmyn James, 12th grade. The class also said how they want to carry the same attitudes that they had on the trip into their final year in high school. "If you are looking for an adventure then come join us next summer for a mission experience that will forever change your life," said Pastor Tim Waisanen, staff.