BREAKING: Tennessee House Moves to Expel Members
On Thursday evening, April 3rd, the Tennessee House of Representatives descended into disorder as protesters filled the rows of the viewing galleries, jeering at legislators and obliging the House to enter recess until the demonstrators cleared the building. Some of the demonstrators were affiliated with the Nashville Covenant School, the location of the recent Tennessee shooting, and were advocating for stricter gun laws.
The behavior of Representatives Gloria Johnson of Knoxville, Justin Jones of Nashville, and Justin Pearson of Memphis, who led the demonstrators into the Tennessee Capitol's galleries, was called out by Representative Robby Starbuck as "a danger to folks working at the Capitol, disrespectful to the recent tragedy, and violated the rules!" Starbuck has called on all members of the Tennessee General Assembly to support the quick expulsion of Representatives Jones, Pearson, and Johnson.
If this resolution passes, it would be an extraordinary act, as it has not been put into action since 1980, when former Representative Robert Ficher was found guilty of taking a $1000 bribe to deny a bill. The expulsion of elected officials would likely involve a lengthy process that would require evidence of wrongdoing and a vote from the Tennessee General Assembly.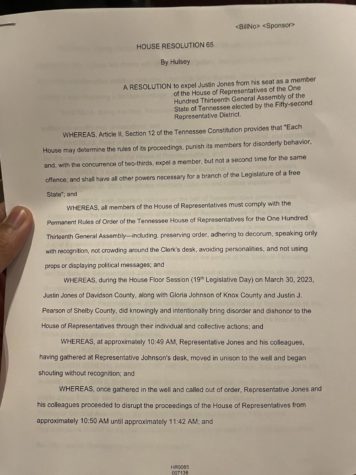 This is a developing story and will be updated as we learn more.