Fifteen Minute Cities, a Sustanable Solution?
Close your eyes and imagine a world where everything you need for your day-to-day life is within walking distance. Running low on milk? Just take a four-minute walk across the street to the grocery store. Do you feel like going out with a few friends for dinner? A new restaurant just opened a few blocks away, only a 10-minute walk – let's go! Don't worry about gas money; let's ride our bikes to school tomorrow, just a 15-minute ride! But why imagine when this could be our reality?
According to the University of Michigan's Transport Research Institute, only 4% of Americans walk or bike to work, making the United States one of the most unwalkable countries in the world. In contrast, nearly 30% of Germans regularly commute to work through pedestrian means, and according to the Dutch government, 25% of all trips are made by biking alone. However, we can flip these rather lugubrious statistics right on their head! It starts with the 15-minute city.
Designed by San Francisco architect Dan Lushcher, the 15-minute project is "designed to help access-focused urban transformations be what we need them to be: ambitious, inclusive, measurable, and effectively implemented." But what does this mean, and what do these cities and towns look like in practice?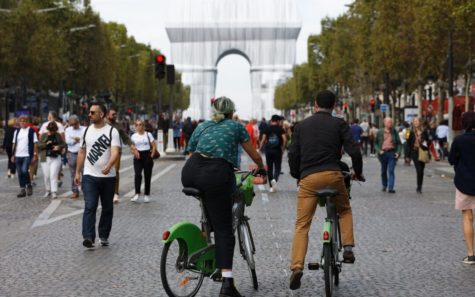 Enter Paris, the shining capital of France known for its prodigious cuisine and nonpareil architecture. According to the Institute for Transportation and Development Policy, it is the most walkable city in the world, based on the proximity of education and healthcare services within a kilometer of homes. Interestingly enough, the mayor of Paris, Anne Hidalgo, is a proud force of the 15-minute city movement and puts it at the heart of her urban renewal ambitions. "Living differently means above all transforming our relationship with time, especially time relating to moving around. Commuting is costly in every respect," Moreno says. "Take the metro or the suburban train, and you see people who are in a state of stress and anguish. That is why we have to have this revolution, to have a city with lots of centers where people can find what they need. We need to break this rhythm of people's lives. It is a radical approach that will transform lifestyles. It is out of the question that we allow ourselves to be invaded by cars and pollution."
Anne Hidalgo has enacted numerous policies to follow up her fiery speeches against the totalitarian nature of an auto centric society. These policies include closing busy streets and remodeling them as pedestrian corridors, implementing bike rental stations, and encouraging public services and businesses to move closer to residential areas. Instead of separating residents from services, dividing the community, Anne Hidalgo moves to unite the two as one, bringing Parisians closer together into one centralized community.
We can do the same. Movements are springing up across the country. City legislatures in New York are experimenting with new designs for pedestrian corridors and bike lanes. San Francisco is widening sidewalks and creating buffers between bike lanes to help mitigate accidents and make pedestrians feel safer. We can see it happening in our local communities as well. John Martinous III, our very own history and economics teacher, is currently engaged in drafting his very own pedestrian advocacy organization called Pedestrian Power. There is so much that we can do and so much we can change to make a better, greener, more connected future for all.
So, what can we do? A good place to start is reflection and trying to imagine how we want the world around us to be. Living in suburbia, it can be challenging to imagine a place where we could simply walk and find anything we need. Therefore, I recommend visiting Not Just Bikes, a YouTube channel dedicated to explaining urban design concepts from Amsterdam that could be implemented in the United States. Then, get connected and start a conversation with Strong Towns, an organization dedicated to fostering discussions on pedestrian-centric urban planning. They provide resources to advocates who want to make a difference by petitioning local governments to change their urban planning philosophies.
As American author and environmentalist Edward Abbey said, "Every important change in our society, for the good, at least, has taken place because of popular pressure – pressure from below, from the great mass of people."