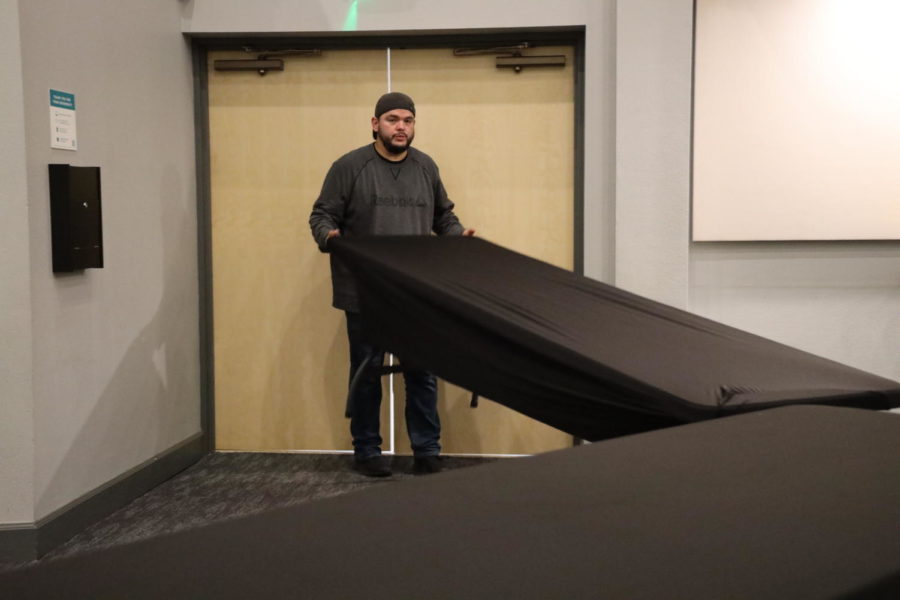 Setting the Scene: What it takes to plan a homecoming week
The planning of Homecoming is an endeavor that requires many minds to come together with dedication to bring together a community in a night of dancing and euphoria. Those behind the spectacle, however, their voices are lost in their own creation. Only the fruits of their labor remain in the minds of scholars, a ghost of nostalgia. Here are their stories. 
Juan Ruiz, an often-overlooked member of the OSOTA maintenance team, plays an integral role in the setup, preparation, and photography of Homecoming Night. "I make sure that everything is where it should be in the right place and at the right time to make the night go as smoothly as possible," said Juan as he moved various speakers and audio equipment around campus into the proper positions for the special night. It is not just about keeping the area tidy and efficient, it is also about the memories. "It is a special feeling being able to capture these extraordinary moments in people's lives and showing them photos that perhaps farther in the future they will look back on with nostalgia," said Juan. 
Mrs. Vasek, kindergarten teacher and event planner, is the event planner for Homecoming. She pours her time, energy and sparkle into creating the event that we hold in such high esteem. "I do everything for Homecoming. I make the timeline, the floor plan, and I make connections with caterers and light crews to create an atmosphere that will be unforgettable," said Mrs. Vasek. It is her gift for seeing the details that brings the vision to life. She also prepares for the unexpected. Scholars can recall the 2021 Homecoming celebration when a stray thunderstorm passed over the school, forcing the event to relocate within the chapel. Thanks to Mrs. Vasek's foresight, the party was saved without sacrificing the golden regal atmosphere. 
         Mr. Moore, the high school math teacher, plays an integral role in planning our Homecoming. He works with Mrs. Vasek to formulate all the wonderful things that make our Homecoming what it is. "We talk, discuss themes, what we want, and what we want to accomplish, and then go through stages to accomplish those goals if they are approved by the administration," said Mr. Moore. He adds on, "Each year we want Homecoming to be a new experience. For this year, we had the addition of the Homecoming parade." Without Mr. Moore, we, as a school, would stagnate and celebrate the same event year in and year out, but, thanks to his vision, we always have something new on the horizon.
Each of these important teachers and staff members has contributed to our Homecoming, and everything that goes into it. Juan Ruiz sets up, photographs, and makes sure everything is running as it should. Mrs. Vasek makes connections with caterers and light crews, in addition to using her planning skills to create a floor plan and event timeline. Mr. Moore helps to form new ideas to make each Homecoming better than the last. So much planning and effort go into our Homecoming, and it is all thanks to these people who, in their undying dedication to OSOTA and its scholars, create the unforgettable experience that we have today as Homecoming. 
Donate to The Walter Times