NFL Offseason Winners and Losers
After nearly two weeks of free agency, most NFL teams have made their big signings and trades (or laid the groundwork for those trades to happen in the case of Aaron Rodgers), so it is time to see who were some of the biggest winners and losers heading into the draft. While there are still some high-end free agents (i.e. Odell Beckham Jr., Jadeveon Clowney, Shaquill Griffin, Ezekiel Elliott, etc.), many moves have already been made, so I am judging them based on what they have done thus far. 
Winner: Chicago Bears
Biggest Acquisitions: DJ Moore, Tremaine Edmunds, T.J. Edwards, Nate Davis
Biggest Losses: Riley Reiff, David Montgomery, #1 Pick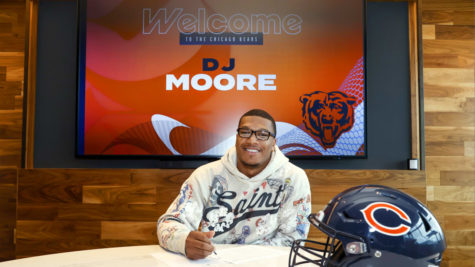 After having the #1 pick fall into their laps during the final week of the regular season, the Chicago Bears had a decision to make: stick and pick the best defensive player available or trade the selection to a quarterback-needy team. They went with the latter, trading the pick to the Carolina Panthers for wide receiver DJ Moore alongside the #9 pick, a second-rounder this year, and a first and second-round selection next year. This move itself would land them among the biggest winners, as they addressed their need for a true X receiver for their third-year quarterback Justin Fields. 
Once free agency began, the Bears, who had the most cap space in the league before free agency, began spending, inking linebackers T.J. Edwards, formerly of the Philadelphia Eagles, and Tremaine Edmunds, formerly of the Buffalo Bills. Edwards served as the starting LB for the NFC Champion Eagles last season, leading the team in tackles with 159 combined tackles, and Edmunds led the Bills in tackles as well, collecting 102. They were also able to get DE DeMarcus Walker, who notched 7 sacks in 2022 while on the Titans, nearly double that of the Bear's sack leader of 4 by safety Jaquan Brisker.
While both linebackers are solid pieces to be adding to a defense, it puts their move of trading star linebacker Roquan Smith into question. The Bears traded Smith to the Baltimore Ravens for a second and fifth-round pick in this year's draft after being unable to find common ground on a contract extension. Edwards and Edmunds' new contracts add up to roughly $91 million with almost $58 million guaranteed, while Smith's contract with the Ravens was $100 million and $60 million guaranteed. The value of Smith supersedes that of both Edwards and Edmunds and it isn't even close. However, with Edwards being 26 and Edmunds being only 24, there is still time to develop both LBs under Defensive Coordinator Alan William's scheme.
The Bears also added Titans guard Nate Davis, a former division rival in tight end Robert Tonyan, and DJ Moore's teammates in Carolina, running back D'Onta Foreman and quarterback PJ Walker, to their offense. Davis serves as protection for Fields, as he was the most sacked quarterback in 2022, being taken down 55 times in the backfield over the year. Tonyan will be the backup to Cole Kmet after being the Packers starting TE for three seasons. Foreman replaces David Montgomery, as he left the franchise and joined the rival Detroit Lions. Foreman was the lead back after the trade of Christian McCaffrey, rushing for over 900 yards and 5 touchdowns. Walker will serve as the team's backup QB after starting in 5 games last year and completing the longest pass of the year to Moore for 67.6 yards. 
These moves by second-year GM Ryan Poles show that the team is trying to both build around their young quarterback and bolster their defensive attack. With the picks in the draft, they will still need to address their needs for offensive line help, edge rushers, and players in the secondary, but their moves in the offseason thus far make them competitive in a division in the NFC North that looks to be up for grabs in 2023.
Winner: Dallas Cowboys
Biggest Acquisitions: Stephon Gilmore, Brandin Cooks
Biggest Losses: Dalton Schultz, Ezekiel Elliott, Connor McGovern, Kellen Moore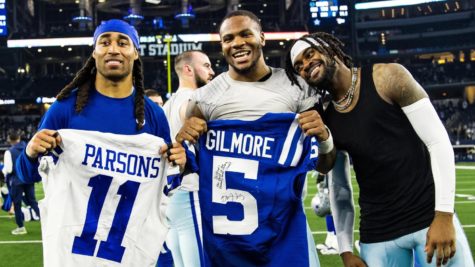 While the Dallas Cowboys have not brought in many new faces via free agency, they have made moves to improve their strong offensive and defensive units. Their emerging star running back, Tony Pollard, was brought back using the franchise tag, securing them a solid starting back. They were able to bring back key free agents on defense in their leading tacklers in 2022, both safety Donovan Wilson and linebacker Leighton Vander Esch. Alongside being able to retain a top coordinator in Dan Quinn, their defense was shaping up to have another top unit heading into the year. 
Yet, their desperate need for help in the secondary alongside cornerback Trevon Diggs and the aforementioned Wilson was obvious. While the Cowboys are usually linked to many free agents or high-end trade targets, nearly none ever happen. This was not the case this year, as they were able to trade for former Defensive Player of the Year, cornerback Stephon Gilmore. They only had to give up a fifth-round pick for Gilmore, who has only one year left on his current contract. While he is no longer the player he was in his 2019 DPOY season, he is still an elite physical corner who is poised to blossom alongside a ball-hawk in Diggs.
In addition to trading for Gilmore, the team also traded for a seasoned veteran receiver in Brandin Cooks from their neighbors, the Houston Texans, for the price of a fifth-rounder this year and a sixth-round pick next year. Cooks is a solid receiver who has produced efficient stats his entire career, playing for the Saints, Patriots, Rams, and Texans during that span. He has recorded 1000 yards in six of his nine years in the league, proving to be a consistent target. Alongside wide receivers CeeDee Lamb and Michael Gallup, Cooks looks to produce numbers on the Cowboys' offense.
This will not come with some learning curve, as they parted ways with many parts of their offense. They lost TE Dalton Schultz and OG Connor McGovern to free agency, and they parted ways with long-time starting running back Ezekiel Elliott and their Offensive Coordinator Kellen Moore. Schultz proved to be one of the more consistent tight ends in the league over the last three years as the starter in Dallas, accruing 2000 yards and 17 touchdowns over that span. McGovern started in 29 games during his tenure in the Lone Star State, being a serviceable offensive lineman on many positions on the line. Elliott, while past his prime, was still a solid power back in 2022, totaling almost 900 rushing yards and 12 touchdowns. Finally, Kellen Moore led his offenses to three top-10 scoring offenses during his tenure as the Cowboys coordinator.
Many of these key losses on offense mean that there are both holes to fill and spots for players to step up into. Second-year tight end Jake Ferguson looks to take the starting spot, as well as second-year running back Malik Davis, who might have a larger workload than that of a usual backup, as Pollard suffered a broken fibula during their divisional round loss to the San Francisco 49ers. Under new Offensive Coordinator Brian Schottenheimer, the high-scoring Cowboys offense looks to build upon their recent success. Through the draft, they will need to address their needs for interior defensive line and help on the left side of their offensive line, but the storied franchise looks to compete in a high-contested division in the NFC East, looking to reclaim the division crown in 2023.
Winner: Miami Dolphins
Biggest Acquisitions: Jalen Ramsey, David Long Jr., Vic Fangio, DeShon Elliott
Biggest Losses: Mike Gesicki, Trent Sherfield, Byron Jones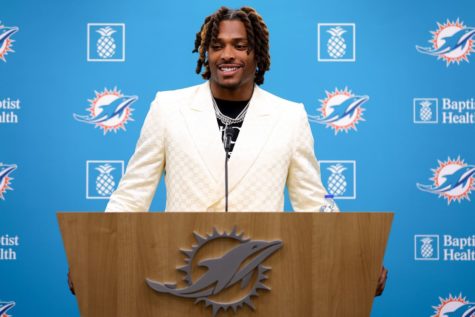 The Miami Dolphins have been very active the past few years, landing top-end talent on both sides of the ball. They traded for first-team All-Pro receiver Tyreek Hill during last year's free agency period after being unable to sign an extension with Kansas City, and they also traded for running back Jeff Wilson Jr. at the trade deadline. On defense, they traded for Pro Bowl LB Bradley Chubb, shoring up their pass rush. These moves helped elevate the squad to the playoffs for the first time in six years, despite losing their starting quarterback Tua Tagovailoa to multiple concussions throughout the season. They lost to their division rivals, the Buffalo Bills, in the wild card round after a hard-fought contest.
Their front office knew they had to make a splash in the offseason to cement their place in such a tough AFC this season, and when former first-team All-Pro cornerback Jalen Ramsey became available for trade, the Dolphins pulled the trigger. They sent Hunter Long, a third-year tight end, and a third-round pick they received in the trade of wide receiver DeVante Parker, in exchange for Ramsey. While Ramsey had a down year by his standards, he still is arguably one of the top cornerbacks in the league. Ramsey comes to a secondary that already has solid veterans and ascending stars, sporting both first-team All-Pro corner Xavien Howard and safety Jevon Holland. Ramsey aims to boost a Dolphins secondary that allowed the sixth most receiving yards in the league last season.
The Dolphins continued to key in on defense in free agency, signing LB David Long Jr. and safety DeShon Elliott, and former Broncos head coach and long-time defensive coordinator Vic Fangio. Both Long Jr. and Elliott accrued the second most tackles on their respective teams, with Elliott doing so in 14 games before suffering a shoulder injury and Long Jr. in 12 games before sustaining a hamstring injury. Both look to continue to improve in coverage and bring tackling to a team that ranked near the bottom of tackles per game in 2022. Finally, they were able to bring in Fangio to join Head Coach Mike McDaniel's coaching staff. After serving as a consultant for the Eagles during the 2022 season, he is being brought on to help a defense that gave up the ninth most points last year.
It isn't all sunshine and rainbows in Miami, as they lost good players to free agency and retirement. On the offensive side of the ball, they lost both TE Mike Gesicki and WR Trent Sherfield. Gesicki was a consistent but underutilized piece on this offense, accounting for 2415 yards over the last four years as a starter, good enough for ninth most during that span. Sherfield was the team's third-leading receiver with over 400 yards, nearly equaling his total yards in his first four years spent with the Cardinals and 49ers. Defensively, DB Byron Jones retired due to the injuries he sustained while playing in the NFL for eight years. Jones, a former second-team All-Pro, was a major signing during the 2020 offseason, but a lower leg surgery kept him from playing in 2022. In his retirement announcement, Jones shared that he "can't run or jump" due to the injuries he sustained throughout his playing career.
The Dolphins were able to retain a few key players on both units, resigning running backs Jeff Wilson Jr., Raheem Mostert, and Miles Gaskin on their offense and LB Andrew Van Ginkel as well as CB Nik Needham defensively. In addition, with the uncertainty of QB Tua Tagovailoa's health and availability, they brought in Mike White from their divisional rival New York Jets to be the team's backup.  While these pieces are integral to their team, they still have spots to fill, including at tight end and offensive line, but they can do so with the deep class of both positions in the draft. They lost their first-round pick due to tampering with Tom Brady and Sean Payton, as well as intentionally losing games in previous years, so they will have to wait until the second round to start making moves for their future. The Dolphins are in a position to compete at a high level in the talented AFC East this year.
Loser: Green Bay Packers
Biggest Acquisitions: Tarvarius Moore
Biggest Losses: Allen Lazard, Jarran Reed, Robert Tonyan, Aaron Rodgers?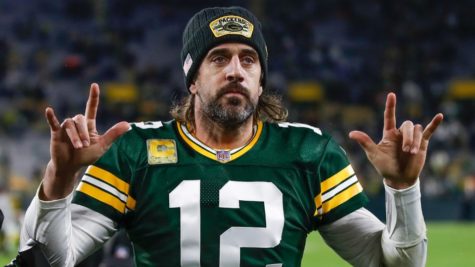 When it seems that you are losing your franchise quarterback for the past 15 seasons without a sure-fire contingency plan, that can already make you a loser in the offseason. When that quarterback is only one season removed from being a back-to-back league MVP and a first-ballot Hall of Famer, it makes the move even worse. While Aaron Rodgers has flirted with a departure from Green Bay for years, he explicitly stated that he plans to play for the New York Jets this time around. While the pieces involved in the trade are not yet finalized, it seems as though Rodgers will be donning a different shade of green come September.
Rodgers' backup, Jordan Love, hasn't looked to be the answer when filling in for the veteran QB. In his lone start against the Kansas City Chiefs in 2021, he sported a 33.1 QBR, throwing for less than 200 yards and turning the ball over once. Love was a first-round pick in 2020's stacked quarterback class, but has yet to see sufficient playing time thus far in his career. Many in the organization, including the disgruntled Rodgers, have praised Love and seem to think he will thrive in the role, but that is yet to be seen.
This loss is bad enough, but with many key contributors leaving for greener pastures, the Packers seem to be in free fall. Rodgers' favorite targets Allen Lazard and Robert Tonyan have signed elsewhere, with Lazard joining him in New York and Tonyan joining the Bears. It is rumored that they will also lose both Randall Cobb and Marcedes Lewis to Gang Green as well. While they still have young talents in Christian Watson and Romeo Doubs, Love will not have the easiest path as a starter.
The Packers currently have the fifth-most cap space in the league, but they used nearly none of their available space. They were able to bring in safety Tarvarius Moore to seemingly replace free agent Adrian Amos. Moore was on the stout defense of the 49ers the past 4 years, sparingly getting playing time backing up Jimmie Ward and Talanoa Hufanga. His best season came in 2020, where he recorded 52 total tackles. While this move is a solid depth piece, it does not make up for all of the bleeding of talent that the franchise is currently experiencing.
The NFC North has plenty of talent, with the Packers missing out on their title chances over the past four seasons. They have many positions of need on both offense and defense. They need skill positions on the offense and defensive line and safety shape up to be the lacks on defense. Luckily for the Cheeseheads, the tight end pool looks to be one of the best in recent memory, with plenty of depth at receiver as well. While the future is uncertain for the Packers, their front office's questionable decisions over the past few years hurt the historic franchise and put them in a bad spot in 2023.
Losers: New Orleans Saints
Biggest Acquisitions: Derek Carr, Jamaal Wiliams, Khalen Saunders
Biggest Losses: Marcus Davenport, David Onyemeta, Shy Tuttle, Marquez Callaway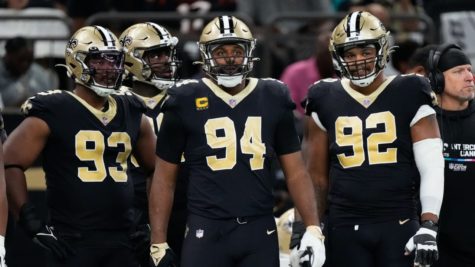 After the departure of longtime starting quarterback Drew Brees retired after the 2020 season, the New Orleans Saints have been mediocre at best. While they have solid talent at some positions, most of those players are on their second contracts, and those contracts are bloated. Because of their spending in years past, they have had to let many quality starters walk in free agency.
The biggest positional loss for them this offseason was on the defensive line. Only one starter, veteran defensive end Cameron Jordan, is returning this season, as many left in free agency. Marcus Davenport, a former first-round selection, signed with the Minnesota Vikings. Davenport had a down year in 2022 but is still a solid end that looks to line up on the opposite side of star rusher Danielle Hunter. David Onyemeta and Shy Tuttle left to join division rivals, with the tackles joining the Falcons and Panthers respectively. The Saints were able to bring in tackle Khalen Saunders from the Chiefs, but they will have to do much more to keep up the production of a team that produced the fifth-most sacks in 2022.
On the other side of the ball, the Saints brought in another veteran quarterback, former Raider Derek Carr. After a sour end to their relationship, Carr joined the Saints on a lucrative four-year, $150 million deal. While Carr has always floated around an above-average starter (except for his MVP-caliber 2016 campaign), this contract pays him as the 10th-highest quarterback in the league, something that Carr hasn't looked like in recent years. Carr had arguably the best core of skill players he has ever had last year, with the Raiders acquiring his former Fresno State receiver Davante Adams, alongside established pass-catchers in Darren Waller and Hunter Renfrow as well as running back Josh Jacobs, who had his best season to date. The Saints also lost wide receiver Marquez Callaway in free agency, leaving Carr with a young receiver in Chris Olave and a veteran core of stars past their prime.
The Saints also added veteran back Jamaal Williams from the Lions. Williams scored the most rushing touchdowns last season with 17, being a consistent threat in the red zone. With the irresolution of Alvin Kamara's legal battle in regard to an incident involving an alleged battery case, Williams serves as both a solid #2 back and a plug-in starter. Williams is going from one of the best offensive lines in football to one of the worst, as other than tackle Ryan Ramczyk, their starters are below average.
The team is in a tough situation, as their roster is competent enough to win at least six or seven games, but they don't have the strength to compete at the top of the NFC. Luckily for the Saints, they sit in arguably the worst division in football. Carr is by far the best opening-day starter before the draft, and with the talent at some skill positions, they could potentially win their division. It should be noted that the Buccaneers took home the division title with a losing record this year, and it would be a shock if that trend repeats this year.
Loser: Tennessee Titans
Biggest Acquisitions: Sean Murphy-Bunting, Azeez Al-Shaair, Andre Dillard, Arden Key
Biggest Losses: Nate Davis, Robert Woods, David Long Jr., Austin Hooper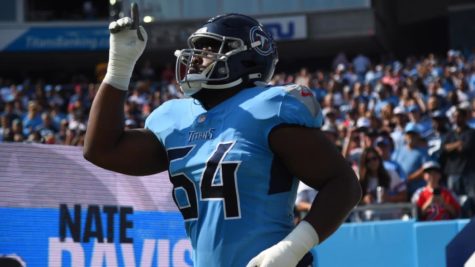 After being Super Bowl contenders for three years straight seasons, the wheels fell off of the bus in the second half of 2022. When they traded star wide receiver A.J. Brown on draft day for draft picks that became wide receivers Treylon Burks and Kyle Philips, and offensive lineman Nicholas Petit-Frere. Brown had the most productive year of his short career, totaling nearly 1500 receiving yards and 11 touchdowns, earning his place on the second-team All-Pro team. While Burks put up okay stats in his 11 games as a rookie and Petit-Frere showed flashes as a pillar on the Tennessee line, they do not amount to the production and value of Brown. 
This loss represented a step back for the team, as they were noticeably worse in their consistency which led them to the one seed just the year prior. They allowed the most passing yards while putting up the third-lowest passing yards on the season, as well as plummeting from a top-five rushing attack to just above league average. Their run defense stayed consistent, but other than that, they were significantly worse. After starting out 7-3, they were cruising toward playoff contention, but they then went and lost their next seven games to end out 7-10. 
2023 isn't shaping up to be much better, as they continue to lose and release quality players. To start the offseason, they cut WR Robert Woods, tackle Taylor Lewan, center Ben Jones, and LBs Bud Dupree and Zach Cunningham. While they were cutting their losses on most of these deals, it represents a failure in their moves in years past. These cuts have made the Titans pile up the fifth-highest amount of dead money in the league, making moves harder to make. This means that they couldn't sign their best free agents: guard Nate Davis, LB David Long Jr., and TE Austin Hooper.
All isn't doom and gloom in the Music City, however. With the little money they had to spend, they were able to add tackle Andre Dillard to their struggling unit. They were also able to replace one of their linebacker spots with Azeez Al-Shaair, a former backup in San Francisco. They were also able to get corner Sean Murphy-Bunting from the Buccaneers. As previously mentioned, the Titans were the worst team against the pass. In addition, they added DE Arden Key to their pass rush. They ranked in the bottom half of the league in stats, and Key is a rusher that hopes to improve that number.
The Titans have their work cut out for them, as every team in their division is only getting better while the Titans are aging and seemingly getting worse. With Ryan Tannehill regressing and Derrick Henry's shelf life coming to a slow but steady end, the future of Tennessee looks bleak. They failed to capitalize on their title window and now sit in a position where a complete and total rebuild looks necessary. Henry has been rumored in trade talks this offseason and with the trajectory of the franchise, going for a full-blown rebuild looks to be the best option.
Those are my picks for the winners and losers of the offseason through two weeks of free agency. While there were more teams that came out looking better than before (i.e. the Falcons, Lions, Jets) and some that look worse (the Eagles, Raiders, and Ravens), I chose to highlight these six franchises. While predicting and analyzing moves is not a perfect science until after the deals are more than done, they do give an idea of how their teams will perform.